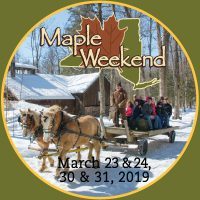 New York State Maple Weekends are March 23-24 and March 30-31
I think we could all agree that Elf's 4 Food Groups are not a healthy diet but Syrup certainly is a Healthy Food Group in Upstate New York. This yummy  liquid gold is getting ready to run from the Maple trees into a bucket, then cooked down to become the best thing EVER! Agree?
Bill and I did this once when we were in the country. It was so much fun to tap our Maple trees then collect the sap pour it into a large metal pan and watch it cook down over a wood fire. There is nothing better than a bottle of beer and a sunny, blue sky with the smell of smoke and sugar AHH, Spring is in the air!
You can have this experience without all the work at a Maple Sugar Farm, see how it is collected and made. Buy a gallon and take it home for a special treat any day of the week. But probably not on spaghetti.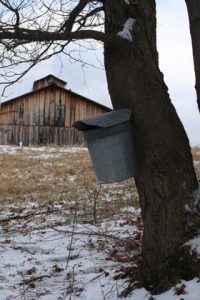 At the inn we use syrup from Mapleland Farms in Salem. They are a five-generation farm and produce an award-winning maple syrup. At Mapleland Farms you can tour the sugar house, take a woods walk self guided tour or go on a guided tour. On the guided tour, your guide will talk about the sugar bush, woods health and of course about tapping the trees! Or, you could have a pancake breakfast or lunch served from 9 a.m. to 1 p.m. Sample their products and shop in their store.
Another favorite is Dry Brook Sugar House in Salem.
Another family owned and operated farm that will greet you with warm smiles when you stop in to see how the "sap is running". While you are there be sure to hop in the wagon and let the horses transport you into the woods.
When you leave Salem head North to Rathbun's Maple Sugar House in North Granville. The family owned farm has been in business producing maple syrup for over four decades. Visit their Sugar House Restaurant and enjoy a stack of pancakes, french toast or waffles with their own maple syrup.
Rathbun's Rustic Sugarhouse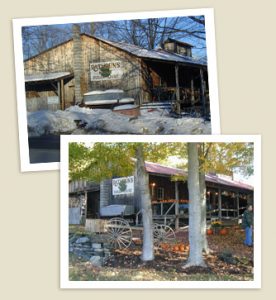 There are many more sugar house's to visit in Washington County all within a 20 mile radius of The Bell House Inn.
Package your weekend get-away
Stay two nights at The Bell House Inn and enjoy a Maple Syrup Breakfast then head off to the sugar farms. We will provide you with a detailed list of all Maple Sugar Farms and a map to help you navigate on the country roads. Sometimes there are no GPS signals available! Come back to the inn for coffee or tea then enjoy a $25 gift certificate to one of two area restaurants that will offer you a warm evening by the fireplace. O'Tooles Restaurant Pub has a four sided fireplace, cozy up and choose something from their extensive menu. Morgan & Co has a gas fireplace in one of their dining rooms, I think Rebecca's award winning bread pudding is made with maple syrup, it is the BEST! I would recommend reservations be made for Morgan & Co, we would be happy to do that for you.
Recipe from the inn ~
After your exhausting weekend head home with your bottle of Pure Maple Syrup and make these delicious Maple Scones.
To Make the Scones you will need:
3 cups of flour
1/3 cup of sugar
5 tsp. baking powder
1 tsp. salt
2 sticks (1/2 pound) of GOOD QUALITY unsalted butter, make sure it is chilled
1 large egg
3/4 cup of heavy cream or half and half
Make them nutty with 1/4 cup of chopped pecans
Preheat your oven to 350 degrees. In a large bowl, stir toether the flour, sugar, baking powder and salt.
Cut in the cold butter until it looks like crumbs. Add the pecans if using and stir them into the mixture. Mix the egg and cream together then add to the flour/butter mixture.
Dump out unto a floured surface, using your hands push the mixture together into a large ball. Pat the dough out to a 3/4 inch thickness cut with your favorite round cookie cutter, or use a glass. Place your cutouts onto a cookie sheet and bake for 2o to 23 minutes or until they just start to brown on top.
Maple Glaze
1/2 pound of confections sugar
2 Tbls butter melted
1 Tbls brewed coffee
1 Tbls Maple Syrup
Mix together then spoon over cooled scones put some chopped pecans on top if you want. Add more Maple Syrup if you would like the glaze thinner.
YUM – ENJOY!