COUNTRY GIRL OR CITY GIRL
I have lived most of my adult life in the country, watching the deer in the fields, listening to the coyotes run through at night, feeding horses, cows, sheep, chickens or whatever stray came along. Those were the good years, raising my children in the country. Spending quality time outside or in the barn, no need for a gym just pick up a shovel and clean a horse stall or lift a 50 pound bag of grain. I could carry a bale of hay or two, one in each hand for balance. Then I moved to the city and opened my city bed and breakfast.www.thebellhouseinn.com.
Living in the country also meant planning your shopping, it was always a 20 minute drive to anywhere. Be careful not to run out of milk or any of the basics, it could mean an hour or more of driving. We also seemed to heat these country houses with wood. We had a furnace, of course, but oil was expensive and wood was cheap to cut and chop. In this last country house we, or, I should say Bill, installed a wood-burning furnace. The first thing you did in the morning, even before coffee, I don't like to do anything before my first cup, was to run out into the cold garage, grab a handful of wood and throw it into the fire. As I opened the door to the furnace I would hope and pray it was still going. But more times than not it was out. Then you needed to go back out into the cold garage, grab paper and kindling, throw them into the firebox, light a match and wait, and wait for a roaring fire to start so you could place some logs on. It could take an hour or so to get the house really warmed up. While waiting for the furnace you could get the wood stove going which didn't take as much time and was easier. However, you still needed to run out to the cold garage for wood! I can remember mornings when I was able to see my breath in the house. I did love to put a cast iron apple cooker on top of the wood stove, an apple, brown sugar and butter, mmmmm, so good.
Bill (husband) and I have been married for 44 years during those years we either built new or renovated old houses every few years. Yes, it was alot of moving but life should be an adventure, right?
We purchased our last country house with the intention of  renovating and make into a bed and breakfast inn. With alot of love, sweat and tears we did just that.
It was a wonderful old stone house (c. 1773) on five acres with an inground pool. Our guests would sit on the front porch and watch the deer in the field. We spent 12 years operating as a B & B hosting wonderful guests from around the world. www.altamontinn.com
Our daughter, Katie and her husband Joe were married there. Katie and Joe bought a house in Glens Falls, had two beautiful daughters and Papa and Nana were on the move again to upstate New York to the beautiful city of Glens Falls.
We found a Victorian on a large corner lot in the City with lots of potential for a bed and breakfast. When we moved in it was quite a shock to my system. As I mentioned we have a corner lot, in the city that means two busy streets with a traffic light, the traffic noise can be loud and insistent at times. Why is everyone in such a hurry? And, the wildest animal I have encountered is a squirrel. But, the benefits of city living definitely outweigh the drawbacks. We are a short 8 minute walk downtown to the library, restaurants, drinks, events, and people! Seclusion in the country during the winter can be lonely. In future I will continue to entice you to visit the city I have fallen in love with and give you ideas of what to do when you get here.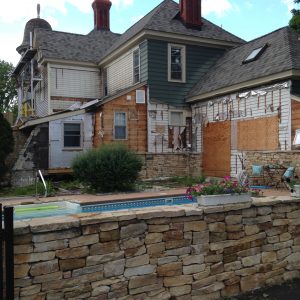 Oh Boy! What did we get ourselves into? Stay turned!